New Material from MARVEL Lab Cleans and Splits Water
This was published on November 5, 2018
This noble-metal free photocatalytic system brings the field of photocatalysis a step closer to practical 'solar-driven' applications and showcases the great potential of MOFs in this field.

—  Kyriakos Stylianou, scientist in EPFL's Laboratory of Molecular Simulation and, since May 2018, experimental group leader in  MARVEL Design & Discovery Project 4.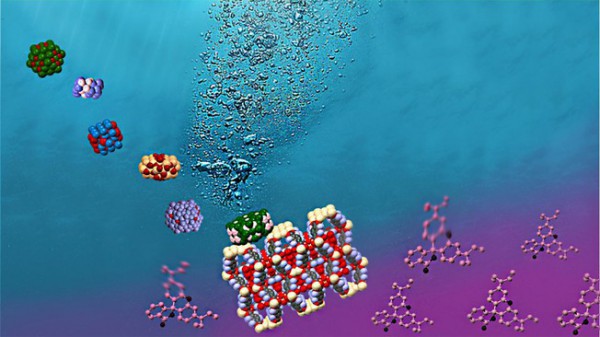 Please follow this link to read EPFL journalist Nik Papageorgiou's story on the research. 
References:
Stavroula Kampouri, Tu N. Nguyen, Mariana Spodaryk, Robert G. Palgrave, Andreas Züttel, Berend Smit, Kyriakos C. Stylianou. Concurrent Photocatalytic Hydrogen Generation and Dye Degradation Using MIL-125-NH2 under Visible Light Irradiation.  Advanced Functional Materials 05 November 2018. DOI: 10.1002/adfm.201806368
Stay in touch with the MARVEL project
Low-volume newsletters, targeted to the scientific and industrial communities.
Subscribe to our newsletter