CECAM-MARVEL Mary Ann Mansigh series: Programma 101, the little computer that could
Nov 09, 2021, from 15:00 until 18:30, BCH2103, EPFL (registration required) + online
Zoom link (no registration needed):
https://epfl.zoom.us/j/64130443768?pwd=a3RyNXA2TEt4bFlITHo4NzEzbjMyUT09
___

1965 New York World Fair. Long before Microsoft and Apple and at a time when computers were big and expensive machines largely unknown to the general public, the Olivetti industries presented the Programma 101, the world's first desktop computer.
Innovative technological solutions and a sleek design made the Programma 101 an instant hit: specialists and public alike queued to see it, the New York Times, Wall Street Journal and several other American newspaper hailed it as a revolution, more than 40.000 pieces were sold worldwide to universities, banks, hospitals, small businesses…
…And then what happened? Why don't we all own an Olivetti laptop today? Some say it's the nature of the market, some say that it is a spy story. We hope you will find it interesting food for thought.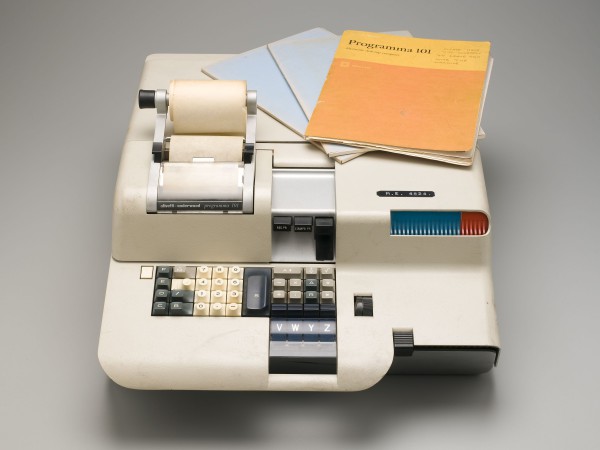 CECAM and MARVEL invite you to (re)discover the machine that transformed the specifications and the look and feel of calculators, opening the path to our modern laptops. With the help of two invited speakers, we shall explore the cultural environment that fostered the development of Programma 101 and learn more about the technical characteristics. Along the way, we shall meet Pier Giorgio Perotto - the father of this little marvel - and a young team of developers in the Electronic Division at Olivetti, and get to know Adriano Olivetti, an unusual industrialist who thought that profit could not be achieved without houses, libraries and social security for his employees or without schools and playgrounds for their children.
Our guests and speakers for this conversation are Beniamino de' Liguori Carino, Foundation Adriano Olivetti, and Pier Paolo Perotto, Finsa – Technology for People. As you will discover, for them this story is, also, a family story. 


The Format
The Mary Ann Mansigh Conversation series focuses of non-strictly technical topics of cultural interest for the simulation and modelling community. The format reflects the informative and informal nature of these sessions, with talks introducing the subject followed by a conversation between the speakers and the audience.
Details on the talks and guests for this session can be found below. We will also provide access to an on-line documentary about Olivetti (in Italian with English subtitles) to those who have registered for it. 

The program for the afternoon will be:
15:00  Introduction
15:10  Coding a legacy: Adriano Olivetti and the factories of good(s), Beniamino de' Liguori Carino
16:00  The Programma 101, a small big idea, Pierpaolo Perotto
16:50   Break
17:00    Interview & conversation
18:30    Aperitif at Epicure for on-site participants only (registration and COVID certificate+ID needed, see below)
To participate
This conversation will take place in person at the CECAM premises at EPFL and will be streamed live.
If you wish to participate on site (room BCH 2103 of EPFL), please register by clicking on the "Participate" tab on this CECAM page and (after login) select the participation type "onsite". This will enable us to plan for local arrangements and set alternatives in place should we exceed the  room capacity. Registration for in person participation will be closed on November 8.
Note too that a COVID certificate (and an ID) will be required to access the room.
If you wish to have access to the documentary, but not to attend in person, please register by clicking on the "Participate" tab above and selecting your participation type as "online". 
Remote participation to the lecture does not require registration.
Zoom link (no registration needed):
https://epfl.zoom.us/j/64130443768?pwd=a3RyNXA2TEt4bFlITHo4NzEzbjMyUT09
The Talks
Coding a legacy: Adriano Olivetti and the factories of good(s)
Beniamino de' Liguori Carino (Adriano Olivetti Foundation)
Entrepreneur, industrialist, publisher, intellectual, politician, social innovator and pioneer of urban planning, Adriano Olivetti (born in Ivrea in 1901 – died in Aigle in 1960) is one of the most singular and extraordinary figures of the 20th century. His community-based social reform project, which centred on the interplay between physical progress, technical efficiency and the ethics of responsibility, is today recognised as one of the most up-to-date and advanced models of sustainability. The presentation frames the Olivetti legacy providing a brief overview of Adriano Olivetti's philosophy as well as placing specific focus on links which bound together the Olivetti entrepreneurship experience with some of the most intriguing challenges we are nowadays facing as society.
Beniamino de' Liguori Carino is General Secretary and member of the Board of Trustee of the Adriano Olivetti Foundation. Since 2009 he has been a member of the Adriano Olivetti Foundation's Scientific Committee, of which he became Secretary in 2016. He has been a member of the Advisory Committee of the Olivetti Historical Archive Association since 2016 and has been appointed Vice President. Since 2012 he is Publisher and editorial director of Edizioni di Comunità. Beniamino graduated from La Sapienza University of Rome with a degree in Modern and Contemporary History. 


The Programma 101, a small big idea

Pier Paolo Perotto (Finsa-Technology for people) 
In the October of 1965 Olivetti presented the Programma 101 at the New York World Fair in a small room of its stand. That was the beginning of a revolution that strongly effected the future of Olivetti, the future of  the information technology market and the future of many of us. The presentation frames the historical, cultural, and technological contest that allowed the project team of the Programma 101, led by Pier Giorgio Perotto, to make real what, at that time, was considered a dream so impossible to be difficult even to dream and that impacted so significantly the future events inside and outside Olivetti.
Pierpaolo Perotto is the CEO and partner of Finsa s.p.a. founded in Genova in 1996 by his father Pier Giorgio when he left Olivetti group after almost 40 years. Finsa is a consulting firm focused on Advisory, Design and Technology, which also founded App2check, a state-of-the-art CX analytics platform that collects and analyzes customer feedbacks through a proprietary Artificial Intelligence engine. Pierpaolo started his career in 1986 in Silicon Valley where he worked for two years at the Olivetti Artificial Intelligence Center. In 1988 moved back to Italy working at Olivetti in Ivrea for other 10 years and later at Ernst & Young Consultants until 2002. In 2003 he took the lead of Finsa. Pierpaolo Perotto took a master's degree in Electronic Engineer at the University of Genoa in 1986 and he was a guest professor at the University of Economic Science of Turin from 2003 to 2005.
Organisers
Sara Bonella (CECAM HQ)
Nicola Marzari (EPFL)
Ignacio Pagonabarraga (CECAM HQ)
Stay in touch with the MARVEL project
Low-volume newsletters, targeted to the scientific and industrial communities.
Subscribe to our newsletter