MARVEL Sector Days give industry a chance to help shape research
This was published on November 5, 2019
by Carey Sargent, EPFL, NCCR MARVEL
NCCR MARVEL Sector Days, full-day meetings between NCCR professors and a small group of invited industrial experts, give us a chance to present relevant activities and capabilities, engage in discussion and receive feedback from the industry experts. We aim to find out more about atomistic modelling tools already being used, computational methodologies industry might consider using, and what material properties or quantities industry would most like to be able to calculate or model. We also hope to learn more about what data industry would like to have for search and discovery, and what data they would be prepared to share.  Finally, we probe current industrial activity and interest in machine learning methods.  
The information gathered complements input from our Industrial Advisory Board, which features members from five industrial sectors—Metallurgy, Pharmaceuticals & Fine Chemistry, Energy, New Electronics and Chemistry and Catalysis. The first Sector Day, on Metallurgy, was held in February.  On October 10th, we hosted the second, inviting industry experts from the Pharmaceutical and Fine Chemicals Sector.
"The meeting gives us a chance to introduce MARVEL activities that might be relevant to a given sector, but more importantly it allows us to obtain guidance and insight into the most pressing problems," said Prof. Michele Ceriotti, a leader of Design & Discovery Project 1, and head of EPFL's Laboratory of Computational Science and Modelling (COSMO). "This helps us see what we should prioritize to be able to offer something that might be interesting for research collaborations in the future."  
NCCR MARVEL director Prof. Nicola Marzari started off with an overview of the NCCR and the philosophy of the agency that funds it, the Swiss National Science Foundation. He explained how the SNSF takes a long-term view, supporting a 12-year dedicated effort to computational innovation in materials, a field that is being revolutionized by a combination of increased computing power, new algorithms, and machine learning—innovations in all of these domains are accelerating and changing the entire discovery process.
Prof. Ceriotti then presented MARVEL's Design and Discovery Project 1, which uses a variety of machine learning techniques in the atomistic modelling of the stability and properties of molecular crystals. He discussed a number of research directions including one that's able to predict the activity of drugs with 99% accuracy and another that can model properties such as lattice energy and rationalize the behavior of molecular molecules. Such physics-inspired machine learning frameworks can potentially help the Pharmaceutical sector, he said, by accelerating by a thousand-fold many different sorts of quantum calculations of atomistic properties, and by supporting robust formulations.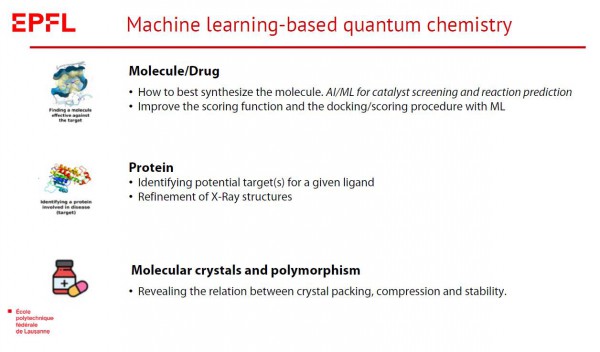 Prof. Clémence Corminboeuf, head of EPFL's Laboratory for Computational Molecular Design also presented a variety of machine learning techniques that could possibly be used to help identify molecules effective against a given target, identify proteins involved in a given disease process, or help assure the quality of medicines being produced. She showed how machine learning can be used, for example, to predict the energy of the oxidative addition process between a transition metal complex and a substrate for certain reactions. This quantity can in turn used to estimate the activity of homogeneous catalysts—data that could accelerate the screening, making it possible to discover novel catalytic materials computationally—and lead to improved methods of synthesizing molecules.
Prof. Lyndon Emsley, head of EPFL's Laboratory of Magnetic Resonance, discussed work done in collaboration with Ceriotti's group. Nuclear magnetic resonance (NMR) spectroscopy can be used to determine a given crystal structure but requires the support of computationally expensive quantum chemistry methods for sufficient accuracy. The approach developed by the two labs combines machine learning with experimental NMR data to predict the exact location of atoms in complex organic compounds, much more quickly and just as accurately. The ability to pinpoint which of the structures predicted by NMR is actually chemically present could help pharmaceutical companies analyze molecule structures to ensure patient safety, and also contribute to the formulation of new compounds.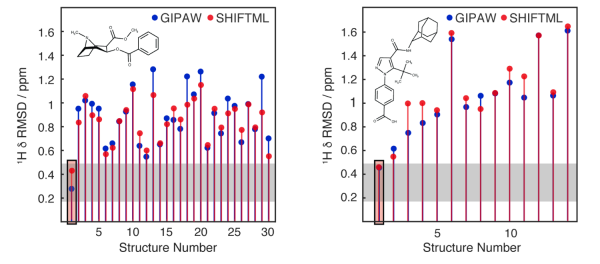 Prof. Esther Amstad, head of the Soft Materials Laboratory at EPFL, discussed microfluidic spray-drying for the formulation of personalized medicines. Her lab has developed a spray-drying technique based on surface acoustic waves to target the fast drying of drops and offer flexibility in the choice of both solvent and solute. The method can produce drops with diameters of only a few micrometers, which are then dried in a dedicated drying unit at room temperature, making possible the production of additive‐free amorphous particles. The approach can then be used to control the structure of known compounds, but also in the development of new materials.
Overall, the day served to highlight the importance of machine learning, and show how such techniques help us understand a number of important problems of fundamental interest to industry. The industry experts also saw, first-hand, the benefits of having access to a lot of data. This prompted strong interest in finding ways of sharing confidential data and distributing new insights across all participants: many companies present were eager to identify areas where we can leverage intellectual contributions from academia and pool industrial resources, all while carefully protecting the intellectual property of all.  MARVEL will set up targeted meetings on specific subjects next year.
Three upcoming Sector Day meetings will focus on materials for New Electronics, Energy and Chemicals.  
Stay in touch with the MARVEL project
Low-volume newsletters, targeted to the scientific and industrial communities.
Subscribe to our newsletter