Foresight Institute Awards Feynman Theory Prize to Anatole von Lilienfeld
This was published on May 28, 2018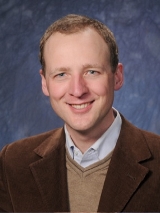 Prof. O. Anatole von Lilienfeld, Head of his eponymous lab in the Department of Chemistry at the University of Basel, Switzerland, received the Theory Prize. The Foresight Institute Feynman Prize for Experimental work was awarded to Andreas Heinrich and Christopher Lutz. The 2018 awards were presented by Nobelist, Sir Fraser Stoddart & Jonathan Barnes.

Professor von Lilienfeld, of the Institute of Physical Chemistry and National Center for Computational Design and Discovery of Novel Materials (MARVEL) at the University of Basel's Institute of Physical Chemistry received the Theory Prize for introducing innovative new ways to accelerate QM quality predictions across materials compound space by multiple orders of magnitude. Previous methods enable the calculation of relevant electronic properties and are universal by construction—as such they are ideally suited for the unbiased virtual exploration of compound space, but are relatively slow. It is foreseeable that these methods, newly developed by Prof. Lilienfeld, will remove the computational bottleneck conventionally imposed by QM.

The Feynman Prize laureates are both visionary and practical in their work, advancing ideas & applications to light the way for other researchers and to accelerate the promise of molecular manufacturing & improve everyday lives for humankind. — Steve Burgess, Foresight Institute Pres.
Foresight Institute, a leading think tank, research, and public interest organization focused on molecular manufacturing and other transformative technologies, announced the winners for the 2018 Foresight Institute Feynman Prizes. These are given in two categories, one for Experiment and the other for Theory in nanotechnology/molecular manufacturing.
Established in 1993 and named in honor of pioneer physicist Richard Feynman, these prestigious prizes honor researchers whose recent work has most advanced the achievement of Feynman's goal for nanotechnology: the construction of atomically-precise products through the use of productive nanosystems.
Stay in touch with the MARVEL project
Low-volume newsletters, targeted to the scientific and industrial communities.
Subscribe to our newsletter