Launch of the EMMC-CSA open forum
This was published on February 1, 2018
Topic Name: Software for Materials Modelling
Target Audience: code developers, software owners and users (public and private), material and process decision-makers in enterprises (small-to-large), materials modeling translators, industrial end-users
Topic Description: A community of software developers and industry, developing and using materials modeling software. Specific problems to be addressed include capabilities of modelling techniques and methods at the discrete (electronic, atomistic, mesoscopic) and continuum levels, the interoperability of different packages, licensing, code quality, standards for sharing data, model validation and testing, and connection with materials property data. The broad aim is to bring together users and developers to advance the application of materials modeling to industrial problems.
Address: https://area51.stackexchange.com/proposals/114856/software-for-materials-modeling
Stack Exchange was chosen by EMMC-CSA due to its reputation as an open forum site which hosts related subject matter sites (e.g. chemistry, physics, software development), and is readily used by software developers and experts to ask technical, application and licensing/business questions (e.g. Stack Overflow has ~7.8M followers).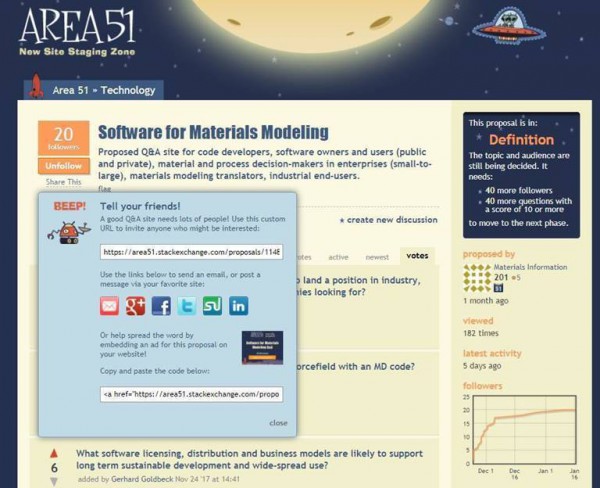 Please EMMC_CSA in making this site a success by taking the following actions:
Become an Expert for the site and raise your profile in the community (take a few minutes to create a profile and click 'Follow')
Vote on questions that you think should be prioritized for further dialogue among members
If the questions you would like to explore related to the topic of the site are not currently posted, please add your question, following the guidelines of the site. If in doubt, feel free to contact Dr. Donna Dykeman 
(Programme Manager, Collaborative R&D at Granta Design Limited).

The European Materials Modelling Council Coordination and Support Action (EMMC-CSA) includes 15 partners and is coordinated by TU Wien. This project has received funding from the European Union's Horizon 2020 Research and Innovation Programme under Grant Agreement No. 723867.
If you want to learn more about the activities of the EMMC - The European Materials Modelling Council, please follow them on twitter under @EMMC_H2020 or visit their homepage https://emmc.info/.

Stay in touch with the MARVEL project
Low-volume newsletters, targeted to the scientific and industrial communities.
Subscribe to our newsletter