von Lilienfeld named editor-in-chief, Corminboeuf named to editorial board of new open access journal Machine Learning: Science and Technology
This was published on July 16, 2019
by Carey Sargent, EPFL, NCCR MARVEL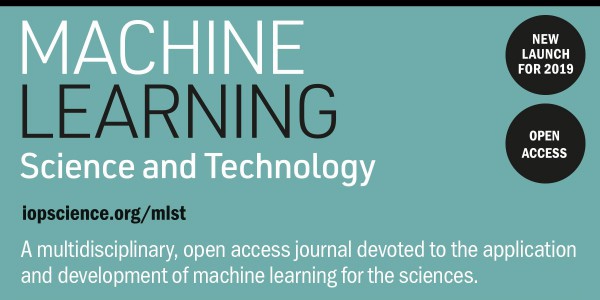 "Machine learning is rapidly emerging as a powerful tool for new discovery across the sciences," von Lilienfeld said on the journal's website. "I am delighted to be working with IOP Publishing as a leading society publisher to develop Machine Learning: Science and Technology into a high quality, open access journal that will uniquely represent the multidisciplinary and most important technological advances in the field."

Machine Learning: Science and Technology is a multidisciplinary journal bridging the application of machine learning across a broad range of subject disciplines including physics, materials science, chemistry, biology, biomedicine, earth science and space science. A particular focus is on new conceptual advances in machine learning methods motivated by the physical sciences. 
It is a gold open access journal. Articles are published under a Creative Commons Attribution (CC BY) licence. Articles are freely available to everyone to read and reuse immediately upon publication, provided the terms of the licence are followed and clear attribution to the author is given. Publication is funded by article publication charges (APCs).  There will be no article publication charge for any article submitted before July 2020 that is accepted and published in the journal.
More information on the journal can be found here.

Stay in touch with the MARVEL project
Low-volume newsletters, targeted to the scientific and industrial communities.
Subscribe to our newsletter